In April of this year, I traveled to Europe for the first time to attend the Bologna Children's Book Fair, a dream come true!
The Bologna Children's Book Fair is the largest children's book fair in the world, attracting around 1,200 exhibitors and more than 25,000 visitors from over 90 countries. While mainly a convention for publishers to buy and sell book rights, there are many events and resources especially aimed at illustrators. There are lectures by celebrity bookmakers, a large illustration exhibition, and several exciting book awards are celebrated during the conference.
I'm happy to say, the Bologna Book Fair was lovely! If you're thinking of going, I'd highly recommend it. Here are some tips I hope will make your travels easier:
1. Download the official app and study the schedule
There are a overwhelming amount of lectures and presentations offered at the book fair, it's worth taking the time to study the program and prioritize. Along with the schedule, the app includes lists of publishing companies and maps to help you find their booths.
https://itunes.apple.com/us/app/bologna-childrens-bookfair-2017/id1212964527?mt=8
In addition to events at the conference venue, the schedule lists "Underground Events," which take place in downtown Bologna during the evenings and in the days before and after the fair. This year, I felt really lucky to attend gallery openings by several of my favorite illustrators.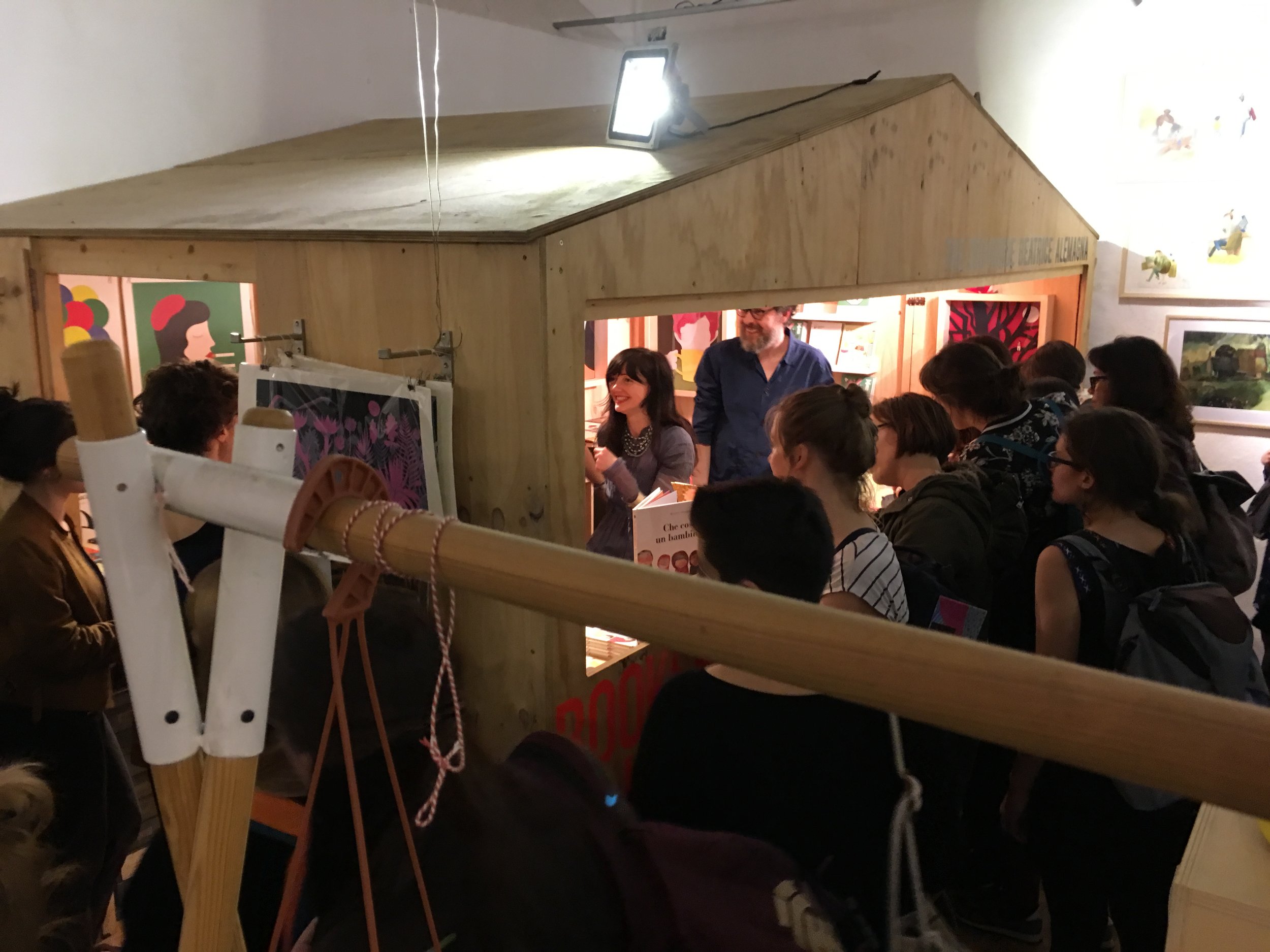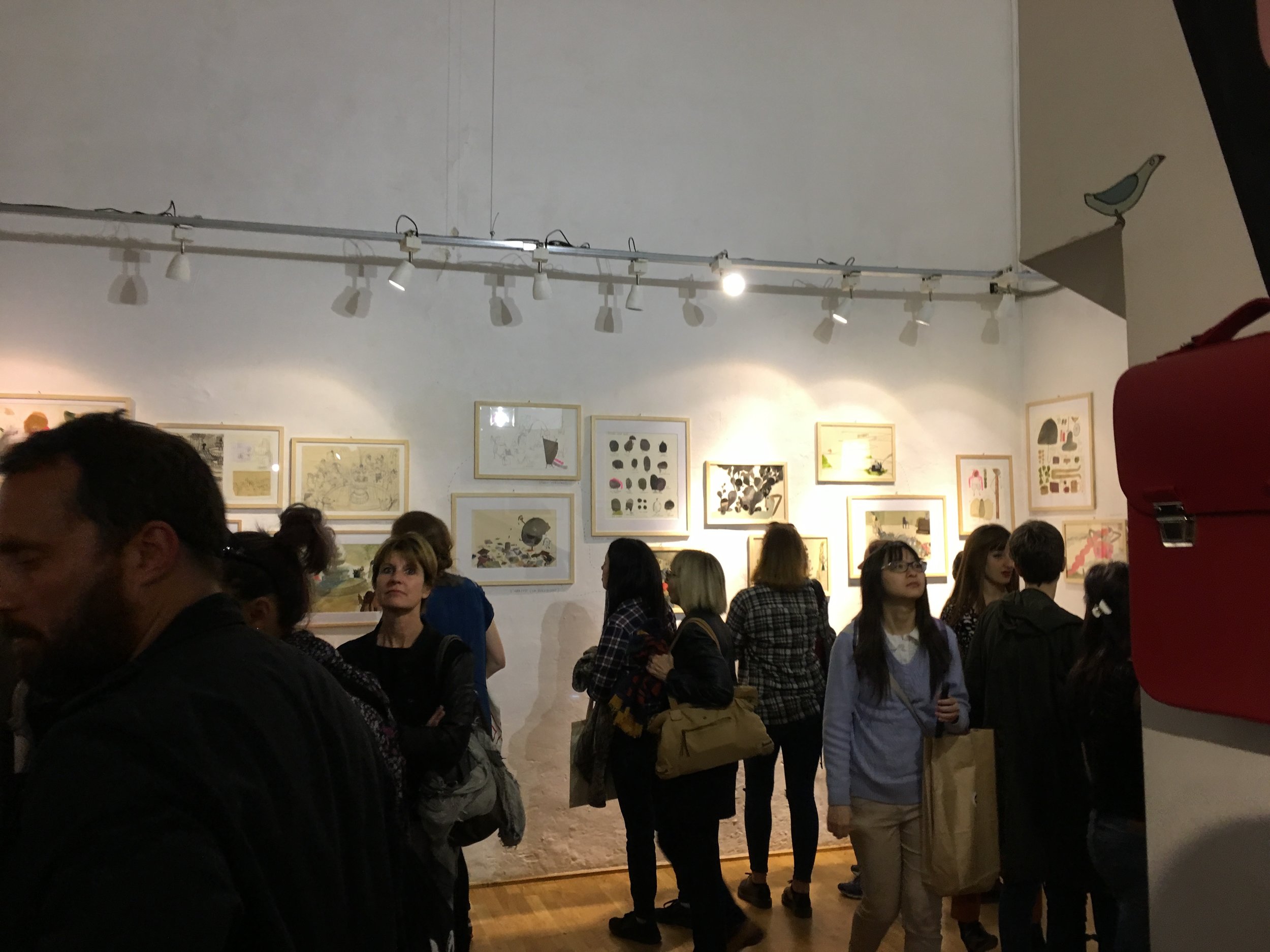 Beatrice Alemagna had original art on display at a gallery/book store, and she was signing books inside a little wooden house!
The next night, Isabelle Arsenault had an opening for an exhibition of original artwork from several of her books, including most of the illustrations from Jane, the Fox, and Me and its sequel, Louis Undercover.
3. Survey the publishing scene
Booths are generally grouped by country, which makes it easy to get an idea of styles and trends in different parts of the world.
Bring a poster and promo cards, put one (or a few!) up on the Illustrator's wall near the entrance. The walls are quickly covered with artwork on the first day, so get in there as fast as possible. Sure, this is probably not the best advertising opportunity, but it's fun just being part of the tradition...and you never know who might see your work!
Bring promo cards to give to your favorite publishers, 50 is probably more than enough. In my experience, most publishers will either accept your cards or give you information on where to send them. Many even have special places to drop off your cards, like the mail slot in this house-shaped booth.
4. Bring lunch
The lines are long at the small cafeteria-style cafes inside the conference venue, with limited options if you have special dietary needs. The fair is in a big complex outside downtown, with no restaurants within walking distance.
My solution was to buy prepackaged meals at the local grocery store. I have food allergies that can be difficult to accomodate, but I was pleasantly surprised to find there was a decent selection of gluten-free, dairy-free, and organic food.
5. Stay downtown & explore the city
Downtown Bologna is picturesque, dense with medieval and Renaissance architecture, and many wonderful shops and restaurants nestled in narrow winding alleyways. Since the evening events take place downtown, it's best to find accommodations there and commute to the book fair during the day. The commute is an easy 1.5 mile bus ride or walk in daylight.
6. Enter the illustrators exhibition
If you're planning far enough in advance, I highly recommend submitting your artwork to the illustrators exhibition. There's no entry fee and, if your work is selected, participating is great exposure. As an added incentive, if you submit work you receive free admission to the book fair - even if your work isn't selected! There's no age limit for entry, but if you're under 35 you can be eligible for a several awards.
http://www.bookfair.bolognafiere.it/en/professional-development/illustrators/bologna-illustrators-exhibition/how-to-take-part/5824.html
7. Buy books from around the world!
At the conference, there's an official bookstore and many of the publishers sell books from their booths. In downtown Bologna, there are many wonderful bookstores too. I had a shopping list of foreign picture books that I couldn't get in the states, and I was able to find them all!
Word to the wise, have a game plan for transporting your books home, especially if you're traveling afterwards and don't want to carry your books in your suitcase. Shipping fees for FedEx and UPS can be steep (hundreds of euros per box), and, as far as I could tell, neither had locations near downtown. I ended up using the Italian Postal Service, which was much cheaper, but has a reputation for being slow and unreliable. Nevertheless, I'm happy to say the shipping went smoothly, and I received my box of books fully intact a month later!
Hope these tips are helpful! Best of luck on your Bologna adventure!